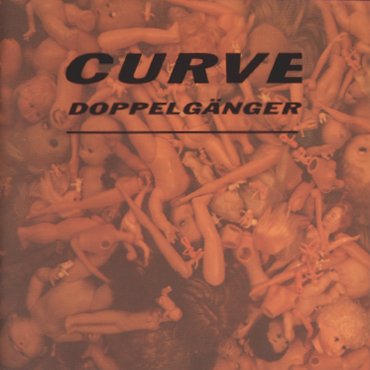 1992 Charisma Records
I first fell in love with Curve singer Toni Halliday's voice on Robert Plant's playful and very underrated 'Shaken N Stirred' CD.  Her rich, playful and sensuous voice was the perfect foil for Plant, and was the sole reason I bought this CD when it came out…having never heard a note Curve played and having no idea whatsoever what to expect.  I personally find her to be one of the all-time most truly sexy female singers ever.    Pure, honest sensuality and confidence…and a certain mysterious edge that I admittedly find intriguing.
1992 was a time when grunge was king and 'alternative' became such an all-encompassing term that it never was clearly defined.   There was a lot of great music that got lost in the shuffle during this time, and Curve remains one of my very favorite unsung bands from this era.
It has been said in various forums that Curve was a major influence on Garbage, with Garbage being the more commercial of the two bands and there apparently being very public mutual respect between them.    If you've never heard Curve before, imagine Garbage with a more abrasive musical backdrop…electronic/industrial-tinged dance beats with wave-like bass lines and much more abrasive guitar.
Personally, I love the way Halliday's voice works as a foil (once again) here, her rich melodies and vocal range almost daring you to endure the controlled chaos of sound that is the backbone of their music.   "Fait Accompli" was the first video from this disc and this link will bring you to it on YouTube.   I just love her voice here (and her aforementioned sensuous presence), and it's a nice introduction to their music if you're new to it.
The whole disc has great depth, with songs like "Ice That Melts the Tips," "Split into Fractions," and "Wish You Dead" barrelling relentlessly forward…equal parts sweet and sour.    Curve is one of very few bands whose music and overall sound is something I can feel beyond mere surface excitement.   It just gives me chills without fail.
I could go on and on, but I'll wind this up by giving props to the masterpiece of this disc, "Horror Head." Probably my fave song of the whole Curve catalogue with Halliday's absolutely gorgeous and haunting voice leading off the song and bringing you to a place you've never been before.
Like all the best music tends to do.
Rating:  5 out of 5
CLICK HERE to buy Doppelgänger
Something extra for you: Check out this link for Curve's incredible version of "I Feel Love" by Donna Summer.   I know, I know…it's an old disco song.  I don't care.   Toni Halliday rules and this is really, really cool.