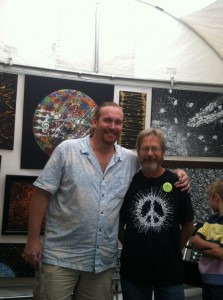 "Some people march to the beat of a different drummer.  I am the different drummer." – Georgie LeHoop
Have you ever heard a painting?
Bet you never thought you'd ever be asked that question!  And it's a valid question because of one Georgie LeHoop.
I had the good fortune of meeting Georgie this past Sunday at the Mt. Gretna Art Show, a weekend long feast of unique arts and crafts in the beautiful town of Mount Gretna, PA. In an environment absolutely overflowing with unique, creative and original art from paintings to jewelry to metallurgy, Georgie's drum art stood out to me as the most original.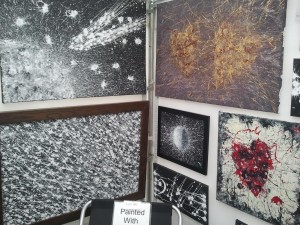 Maybe I'm biased because I love music so much, but really…have you ever heard of anything like this before?  Wow!
In a nutshell (drumshell?), Georgie is a lifelong drummer who takes a stretch canvas, dips his drumsticks in paint and drums on the canvas to create his works of art.
Flams, paradiddles, ratamacues…all the drum rhythms are there for you to see.  And the art he creates is amazing.
His work is available on original canvas, prints and some very cool t-shirts.  He's wearing one of them in the picture above.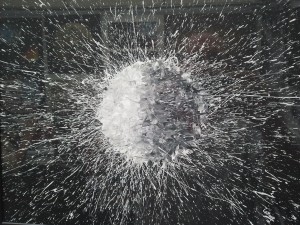 Sometimes he records while he paints and did this to create his CD, which is called…
You guessed it…"Have You Ever Heard A Painting?"  You should…it's like nothing you've ever seen or heard and it's the work of creative genius as far as I'm concerned.
What makes it all even better is that he's about the nicest person you'd ever want to meet. Down to earth and genuinely kind, his passion for drumming and his drum art is evident after about 5 seconds of talking with him…and his stories behind his creations are fun and fascinating.

Check out the pics and videos here and pay Georgie a visit at his Drum Artist website.
Below, check out Georgie LeHoop and the Electric Kayak!  Thank you Georgie for your time, your kindness and your art.  Rock on, brother!
Here is Georgie's own description of what he does:
"Rhythms – earth rhythms, life rhythms, ocean rhythms, lunar rhythms, nocturnal rhythms, ancient rhythms. When I hear the waves pounding a shore, I hear rhythm – the wind, the crickets, a grouse drumming, bees buzzing, horses running.  Rhythms have surrounded me my whole life.
Some people march to the beat of a different drummer.  I am the different drummer.  My art is a merging of music and painting.  It is expressed by dipping my drumsticks into paint and then playing a rhythm on a stretch canvas: Producing both a painting and an audio recording."