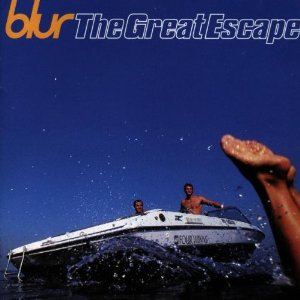 My apologies for our British friends, who will no doubt be laughing a bit at this.  While this band achieved cult status here in the United States, they were in a rather heated "BritPop War" with rivals Oasis over in England and were the first of the two bands to achieve a number one hit.
Meanwhile, while this battle was going on in Britain, here in the United States our pop radio was being inundated with the usual milquetoast drivel by Whitney Houston, Maria Carey, NSync, Backstreet Boys, Brittany Spears, and whatever bad pseudo-metal was left over from the 80's bands who refused to put away the hairspray.  (Incidentally, all of the bad leftover unused 80's "power ballads" would later become country hits.)
But I digress.  Most Americans know Blur from the quite wonderful "Song 2" off the self-titled Blur album, but this band was making incredible music for years before that.  This week's WAV is the song that achieved them that first number one hit in England back in 1995 and, considering the current state of our US economy and the real reason our economy is in this state, it's perhaps even more relevant 16 years after the fact.
An excellent song and a pretty funny video to go with it.  Enjoy Abysmally…