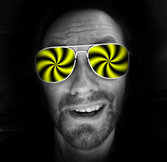 I recently stumbled upon a really funny blog…which is cool because it happens to be called "Really Funny Blog! by Norman 'Willy' Frillman."
I love to laugh and have my own list of some favorite comedies like This is Spinal Tap (my alltime favorite), The Big Lebowski, Amazon Women on the Moon and Top Secret!    Frillman's blog (sounds like a movie title, actually) really blew me away because his top underrated comedy movie list included some of my favorites and introduced me to some new faves like Idiocracy.
Anyway, check out Norman 'Willy' Frillman's Really Funny Blog and get introduced to some movies destined to make you laugh till you cry.  Some other great topics are on there, too.  As Frillman himself describes it, "In this space I will write stupid life observations and document the absurdity of the human condition.  In other words, this is a complete flippin' time waster and it should be pretty funny."
It is.  Click any of the link words above to check out his blog, if you haven't figured that out already.  I hope you enjoy it as much as I do.  Abysmally, of course.