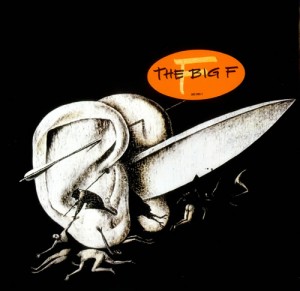 1989 Elektra/FFF
I don't think I've ever heard an album whose existence is so totally in a vacuum like this disc. Doomed from the time of its release in 1989, it went virtually unnoticed by everyone except music nuts like me who were constantly in search of the perfect jam.
Why was it doomed? Because no one could really write about them. The band got little (if any) press and even the pictures on the inside of the album and CD sleeves are unfocused so as to prevent recognition…all because two of the three members were from the 80's pop band Berlin (yes, "Take My Breath Away" Berlin) and that connection would have destroyed their street cred.  I remember when the album was released I was working at Paradise Records in Baton Rouge and the record company (Elektra) was very secretive about the band's origin.  Not a very smart strategy, given that hard rock was so visually driven at that time.
The result is a rockin' and beautifully flawed album that represents perfectly the transitional time of its release…when hair bands were on the way out and grunge was about to take over. This album is neither, and musically could have come from just about any era. As timeless as your favorite pair of jeans (frays and holes included) and just as street-sure.
Two videos were released, fortunately, for two of the stronger tracks (Doctor Vine and Alpert Tango)…so if you check them out here and like them, you'll probably like the rest of the album. The Big F is an album that succeeds as much because of its flaws as because of its triumphs. Vocals go from confident, brooding, melodically growling to an occasional high-pitched wail that was definitely a sign of the times. Fortunately the latter doesn't happen too often and we're treated to a very tight three piece with chops, hooks and power.
Alpert Tango is probably my favorite tune, whatwith its relentless and tight percussive attack and growling vocals that sound like a nice guy trying to sound tough and succeed because of it. In many ways, the band's origin makes sense as pop songwriters who want to get down and dirty and just rock. Hard to describe this album's timelessness, other than "it rocks."
Definitely more hard rock than metal, it's guitar, bass, drums and vocals.  No frills.
And, quite frankly, it sounds even better today than it did (gulp) 20 years ago.
Rating:  4 out of 5