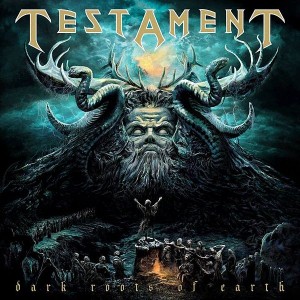 2012 Nuclear Blast
Man, there's nothing better than hearing a metal band you loved in the 80's and 90's sounding more juiced and inspired than ever on a new release 20 years later.  I remember back in 1987 when I bought their first album The Legacy (an album which initially scared the bejeezus out of me with its dark imagery) and I was blown away by the interplay between guitarists Alex Skolnick and Eric Peterson on songs like Burnt Offerings.  I honestly wasn't as blown away by the songs on the album, but it was obvious that there was immense talent in the band and I was hooked.
Hooked enough to buy every release since then.  I really thought they were the band that threatened to make The Big Four (Metallica, Megadeth, Slayer and Anthrax) The Big Five.  Though it never quite happened, Testament earned immense respect and produced a bevy of cool albums in the years after.  While I was totally disappointed when the classic Testament lineup eroded (beginning with the departures of axe wiz Skolnick and drummer Louie Clemente), I was equally thrilled when Skolnick returned for The Formation of Damnation a few years back.  To say I'm thrilled with Dark Roots of Earth would be an understatement.
Skolnick and Peterson have never sounded more juiced and Dark Roots of  Earth is quite possibly the best album Testament has ever recorded.  This is a band thoroughly in love with the sounds they're creating and obviously having a blast creating them.  Kicking off with powerful opener Rise Up, this album  just never lets up and it's chocked full of everything that has made this band special from the very beginning.  Lead throat Chuck Billy (cancer survivor…YEAH!) turns in one of his very best and most inspired performances, as does the whole band really.
Skolnick originally left Testament because he wanted to explore other less metal musical terrain, and I really believe the band is better for it.  What he brings to the music now is that much better, and that's saying a lot when you consider the quality of Testament's songwriting.  Peterson is more of a co-lead guitarist now and Dark Roots benefits from the two guitarists having a better chemistry than ever.  Hell, this band has been bleeding talent from the early days, as evidenced on their absolutely killer metalized cover of Aerosmith gem Nobody's Fault, quite a feat by a band that at that point was still proving themselves.
Witness Native Blood, True American Hate, Cold Embrace and Throne of Thorns, all delivering in spades and showing Testament to be a band with much more to offer…hopefully for many years to come.  This is a guitar hero album in the best way.   Many bands from Testaments early era are pretty much nostalgia acts, but these guys are perhaps more vital than they've ever been.  Whatever the journey that's gotten them to this point, it's been worth it.
Squarely heavy metal (once again in the best way), Dark Roots of Earth is one of those albums that could truly earn these guys a whole new legion of fans.  If you don't like metal, you probably won't like this album, but if you do like metal you'll want to give this one a good thorough listen.  It's so good that you'll probably find yourself wanting to check out their back catalogue,
It's also so good that you may find that it outshines their fine collection of recordings.   I haven't been this stoked about a Testament disc since Low.  Welcome back, guys!
Rating:  4.5 out of 5
Download/Buy Dark Roots of Earth and other Testament music