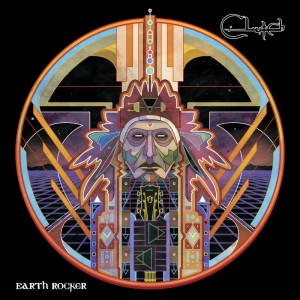 2013 Weathermaker Music
I remember that fateful day in late 2002 when I walked into Iko's Music in York, PA and saw a copy of Clutch's most recent CD Pure Rock Fury, along with their Impetus EP.  I had lost track of Clutch and many of my favorite bands in the late 1990's and the turn of the millennium, whatwith being consumed by a depressing and dismal marriage, and was immediately blown away by Pure Rock Fury when I listened to it on headphones in the store.  Neil Fallon's intelligent and often humorous wordsmithing also brought some much-needed smile action to my face as well.
Needless to say, I bought the disc and have been a Clutch homer ever since.
Pure Rock Fury marked a decided upping of the ante in terms of focus and energy, and it was the beginning of a string of 4 straight studio albums that I would personally put up against any string of 4 albums by any rock band in history:  the aforementioned album, Blast Tyrant's Atlas of the Invisible World Including Illustrations of Strange Beasts and Phantoms, Robot Hive/Exodus and From Beale Street To Oblivion.  As much as I was anxiously awaiting 2009's Strange Cousins From The West, it was ultimately a disappointing album missing many of the deep and long-lasting hooks of previous works.  I could only hope that their next album would be a kickin' return to form.
Needless to say, it is.
Earth Rocker will undoubtedly draw comparisons to 2004's classic Blast Tyrant's Atlas of the Invisible World Including Illustrations of Strange Beasts and Phantoms, as producer Machine is back with his latest mix guaranteed to lay waste to your sorry woofers.  I would call this new collection of tunes a melding of the very best elements of Pure Rock Fury and Blast Tyrant as only Gone Cold lightens up on the throttle, creating the same moody vibe as The Regulator.  Hooks and energy come flying at you relentlessly, as the rather silly chorus of the title track wins you over with conviction guitar power.  Speaking of hooks and riffs, everything that was missing on Strange Cousins has been found…and found in spades.
Earth Rocker and Crucial Velocity kick the album off in unrestrained fashion much the way You Can't Stop Progress and Power Player kicked off the Beale Street album, albeit with more power from Machine's white-hot mix.  Then we're on to what is my initial favorite tune, Mr. Freedom, which finds the good Rev. Fallon back in a venomous wordsmithing form that stretches over the remainder of the album.
DC Sound Attack! has a groove that just cannot be stopped while Unto the Breach, Cyborg Bette and Oh, Isabella are other highlights of both groove and hooks.  The guitar sound is sharp, the riffs are quite intoxicating, Neil Fallon is commanding the mic and rock's greatest rhythm section of Dan Maines and Jean-Paul (The Master) Gaster groove in the deepest of pockets.
Final verdict?  Nary a duff track to be found.  This is Clutch back in classic form and Earth Rocker stands easily next to the very best of Clutch's incredible catalogue of music.  Blast Tyrant still stands as my fave Clutch album, but after 10 listens already Earth Rocker could be my favorite Clutch album on any given day.
Rock and roll isn't dead.  Rock and roll is back…and it's name is Clutch.
Rating:  5 out of 5
Buy Earth Rocker full CD
          Download Earth Rocker full disc as MP3